Navigation Buttons —
Turning to expanded diameter, we see that the trend is similar but that the cup and core bullets show more nearly an average degree of expansion. This is partly because the all-copper designs tend to not expand to as large a final diameter as the other bullet designs.
The data also suggests that a power function is suitable for approximating the expanded bullet diameter as a function of weight:.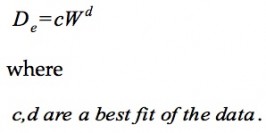 The penetration for a particular bullet weight and construction is then compared with the ribcage and thorax thicknesses to estimate the length of the probable wound channel inside the thorax. The wound channel diameter is assumed to be the same as the nominal diameter of the expanded bullet. These two numbers define the length and diameter of the 'tube' we use to represent the wound channel, and the resulting surface area is compared against the areas described in Appendix B using the methodology outlined in Appendix A.
# # # #
Navigation Buttons —