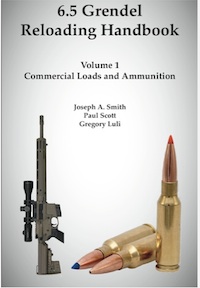 We're writing a short series of handbooks dedicated to partially answering many of the questions about the history and utility of the Grendel. These handbooks are great resources for all Grendel shooters as well as both beginning and advanced Grendel handloaders. Click on the highlighted Volume 1 and Volume 2 titles to get more information and links to where the handbooks may be purchased.
Volume 1 Introduces the 6.5 Grendel to the handloader. This volume highlights commercial sources of Grendel rifles and ammunition and briefly touches on the history of the cartridge. The handbook introduces the Grendel's medium game hunting potential. We also included handloading data from four significant commercial sources – Alexander Arms, Vihtavuori, Hodgdon, and Western Powders (Accurate and Ramshot). This load data covers the spectrum of Grendel applications from varmint shooting and plinking through medium game hunting and serious target shooting.
Volume 2 features a very strong focus on the Grendel as a hunting cartridge: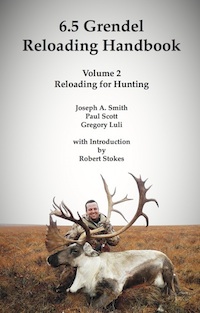 Have you ever wondered wonder what game one can reasonably expect the Grendel to be effective on?
… We did a series of terminal ballistics tests with selected hunting bullets to fill in gaps of testing by others to develop recommendations of what bullets make sense. (Hint: Using the right bullets makes the Grendel an effective Elk gun, a varmint rifle, and a fun plinking rifle!)
Or, why the 6.5 caliber has long had a strong following in Europe and why the caliber is rapidly gaining popularity in North America?
… A fascinating story by a former Alaskan guide and current Grand Slam hunter answers many parts of this question.
Or, want to know what rifles exist and whether any of these are suitable for very old or very young hunters?
… Volume 2 updates and expands the list of AR rifles and uppers from those shown in Volume 1
Or, want to know how long your barrel should be?
… We discuss why a 10-inch Grendel pistol is an effective medium game getter and how folks with 18″ to 20″ can expect good game performance out to at least 500 yards.
And yes, Volume 2 has a lot of reloading information!
Regarding future work, we are looking at Competition Target shooting with the Grendel, Bolt Rifles and Grendel-Based wildcats as topics for future volumes or for a consolidated hard-bound version. Our experience with Volume 1 and Volume 2 suggests that we project "late 2014" as the time frame for the next version.